Workspace Roles and Permissions is the section where you can view all controls for each user and create a new role. By selecting a particular role on the drop-down menu, you can see and change all the different elements of the workspace that a user has access to. These elements include workspaces, projects, boards, tasks, meetings, issues, risks, and timesheets.
If you want to see which account has what privileges, you can do that, by completing the following steps.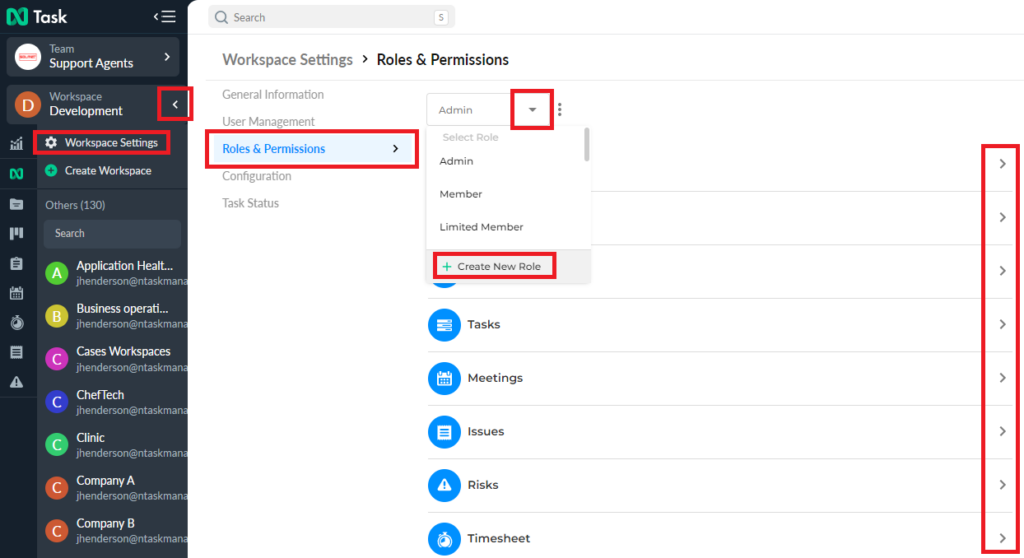 Click the Workspace dropdown button and click the Workspace Settings button
Here you will have four options i.e. General Information, User Management and Roles & Permissions, and Task Status
Click the Roles & Permission section and the section will appear on the right
Here you can see the list of all the elements inside a workspace and the different types of roles. These roles include the Owner, Admin, Member, and limited member".
Each role has different controls. click on each element to view all the permissions accessible to every role type, Notice that the owner has the most control, while the limited member has the least.
These preset member controls can't be changed, You can set custom settings by creating a new role and updating the permissions for each element.
Here you can Duplicate, delete and copy a custom role and its permissions to another workspace by clicking on the vertical three-dots beside the role type box.
If there's anything you feel needs a more extensive demonstration, you can write to us at support@ntaskmanager.com. We'd be happy to assist!